Okains Bay Museum is situated on the northeast side of Banks Peninsula, 83km from Christchurch and 19km from Akaroa.
Access from Christchurch is along Highway 75 to Akaroa via Little River, meeting the Summit Road just before Hilltop. The route is tar sealed all the way and offers superb views and photo opportunities of Akaroa Harbour and the picturesque outer bays.
View and download a pdf of the Museum Map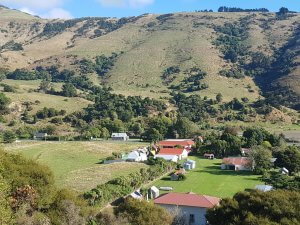 Okains Bay Museum is 90 minutes away from Christchurch and less than half an hour from the popular tourist spot of Akaroa.
Visitors can be assured of some beautiful views en route. Plan to spend at least a day in the area visiting the many attractions Banks Peninsula has to offer.
Directions