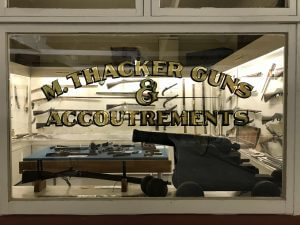 Opened on Waitangi Day 2012, the Gun Room houses the guns and weapons collected over many years by the founder of the museum, the late Murray Thacker. With over eighty items dating back to 1620, it is one of the best collections of early firearms and related equipment in Aotearoa New Zealand.
Some of the unique items on display include two flintlock pistols dating from the late 1700s, a five-cylinder percussion lock revolver, and a William Cole of Ireland brand percussion lock pistol that was originally owned by Murray's great-grandfather, John Edward Thacker (1825 – 1896).
---
David Tipple, his family and the team at Gun City generously supported the creation of this Gun Room displaying historic weapons collected by Murray Thacker and gifted to the Okains Bay Museum.