7 October 1933 – 8 June 2017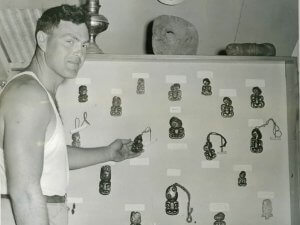 The Museum began as the private collection of Murray Thacker, the great-grandson of eight of the earliest pioneers to settle in Okains Bay. Murray grew up in Okains Bay and attended the local school where his interest in collecting began. He acquired his first taonga Māori at the age of nine – a small toki pounamu gifted to him by Fred Waldron from neighbouring Stony Bay. While still a teenager, he bought Waldron's entire collection, which had been fossicked from Stony Bay and Pānau in the 1930s and 1940s. Murray's Great Uncle, Christopher Bodkin ('Old CB') Thacker, was also a collector of Māori 'curios', including taonga personally fossicked from Okains. Murray inherited some of Old CB's collection and fossicked himself before it became unlawful.
On completion of his studies at Christchurch Boys High, Murray trained as a blacksmith. Soon after he returned to Okains to manage his own farm and develop a very successful Hereford stud.
The Museum began as his private collection in his own home, but when the opportunity arose, he purchased the Old Cheese Factory and spent the next nine years setting up the Museum. This included the relocation and restoration of many colonial historic buildings, forging links with Māori craftspeople and commissioning the construction of the Whakaata and Pātaka and the erection of the Whare Taonga.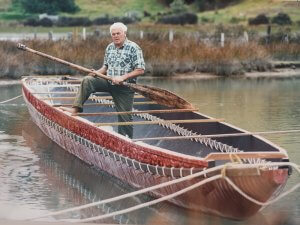 Murray became well known and respected in New Zealand for his wealth of knowledge of Māori taonga. He was awarded the Queen's Service Medal shortly after gifting the Museum collection in 1977.
He served on the Museum Trust's Board and as the President of the Christchurch Agriculture and Pastoral Show, on the Board of the New Zealand Antique Arms Association, the Canterbury Pilgrims Association and the Board of Trustees of the Canterbury Museum.
In 2009 he was awarded the A.C Rhodes History Medal by the Canterbury History Foundation, which stated "The result of his work is one of the country's outstanding local museums."
Murray was a strong supporter of the local community of Okains Bay, working to keep its vitality by encouraging families with school-age children to live in the Bay and helping the store to stay open.
In February 2009 he gifted the historic Okains Bay Store to the museum to help preserve this piece of local history. In turn, the Museum gifted the store to the Okains Bay Enhancement Society in a ceremony in December 2021 so the store may continue to serve locals and tourists visiting Okains Bay