The museum is famous for its Waitangi Day Commemorations held every year on 6 February. Waitangi Day is the day that Te Tiriti o Waitangi was signed between Māori rangatira (chiefs) and the British Crown.  Waitangi Day was first commemorated at the museum in 1976 and the commemorations are the largest and longest running in Te Waipounamu/South Island. The museum grounds, the Ngāi Tahu reserve opposite the museum, and the entire Okains Bay heritage precinct is given over to the commemorations which typically attract several thousand visitors. For information about Waitangi Day in a specific year, visit our Events page.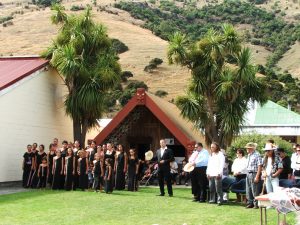 This annual family focused remembrance is always a big day for Ngāti Huikai who host the pōwhiri (formal welcome) and prepare a hāngī (traditional meal cooked in an underground oven) that feeds up to 900 people. Other highlights include children's races, and the paddling of the magnificent Ngāi Tahu waka, Kōtukumairangi on the Ōpara River.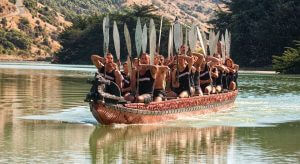 The day also provides an opportunity to view the museum's significant collections of taonga Māori and colonial items. Visitors can enjoy continuous demonstrations and working displays all day including weaving, bread baking in a traditional clay oven, early printing works, musket shooting, sheep shearing, crafts and stalls. The events and timetable vary so please ensure you follow us on facebook to keep up to date with what is happening each year.
Please contact the museum if you are interested in holding a stall or running an entertainment event as part of our annual commemorations.