In lieu of the Museum's large-scale Waitangi Day Commemorations which have been cancelled this year, we will be hosting a small scale 'Museum Day'.
A selection of our most popular museum-based activities will be featured including blacksmithing, printing, cocksfooting and weaving demonstrations, family games and activities. We'll be running the world's first Croqkains Tournament – mini-golf style croquet with obstacles and crazy challenges Okains Bay Museum-style.
Join us for a fun day of mini-events and see first-hand some of the museum's extensive collection of heritage equipment put to work as they were in the past.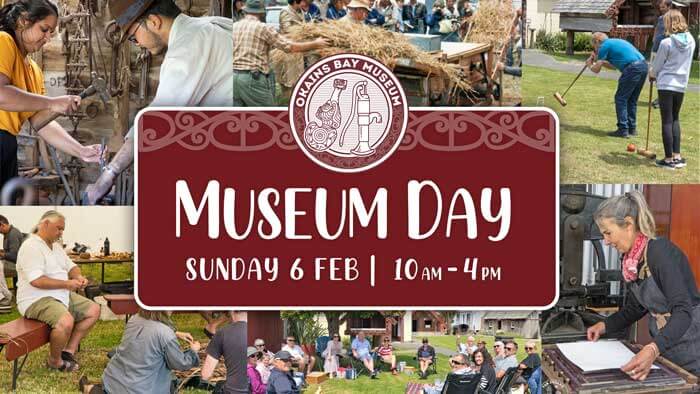 Please note: this is not our traditional Waitangi Day event and therefore will be no official commemorations, powhiri, hangi or waka on the river.
---
Covid Red Alert Level
This event is designed as a small event for under 100 participants.  Vaccine Passports, face coverings and physical distancing are required. My Vaccine must be presented on arrival. Depending on numbers, there may be restricted entry and/or a one-out, one-in system of entry.
We have cancelled the planned one-on-one workshops due to the inability to maintain physical distance requirements.
---
Print Shop:
Howard Pettigrew fires up the presses, sets and prints work on the museum's heritage presses. 
---
Forge:
See Farrier John Thacker and/or Blacksmith Napat Chutrchaivech (Thung) work with the forge to make and shape objects out of steel.
---
Kete Waikawa
Watch Helen Brown demonstrate the making of kete waikawa, a long-lasting traditional storage solution for potatoes, kumara and onions.
---
Cocksfooting
Cocksfoot grass seed was one of the most significant industries in Canterbury during the early 20th Century, earning the Banks Peninsula more than $10 million per annum. Mark Sutton will set to work some of the heritage machinery so you can see how the seed was processed before being shipped to market.
---
Croqkains – Mini-golf style Croquet
Family fun with obstacles and crazy challenges Okains Bay Museum-style. $2 per player.
---
Mini-Tractor Rides
Take a farm-style tractor ride on hay bales in a circuit around the Museum Arena. $2 per person, minimum 4 required per ride.
---
Shell Painting
Try the age-old art of Shellcraft and make your own Okains Bay souvenir.
---
Entry Fees:
All entrance, workshops and games/rides tickets are to be purchased at the Museum office. The entrance fee is an all-day pass and allows you to come and go as you please on the same day.
Adults $15
Concession $10 (student, community service & Kiwiable cardholders)
Children 12 and under are free when accompanied by an adult
Museum Volunteers Free (must have carried out voluntary mahi during the previous 12 months)
Okains Bay Residents Free with proof of ID and address
Eftpos available
Food, ice creams and drinks are available in the Museum's tearoom and from the Okains Bay Store.